Current job and internship openings are listed below. If you are interested in an internship with us not listed, please contact our Executive Director at lynne.nemeth@thearb.org.
Dr. Kristin Haskins
Director of Research, Interim Executive Director, ext.114
Kris started with The Arboretum in 2006 after a three-year post-doc at Northern Arizona University (NAU) working in a mycorrhizal ecology laboratory. After growing up in New Hampshire, Kris moved to Lexington, KY where she completed her B.S. and M.S. in Biology at The University of Kentucky. She then attended NAU for her dissertation work in piñon-juniper ecosystems. Currently, her research interests include conservation ecology of rare plants, restoration ecology and developing native plant materials for re-vegetation. Kris recently completed co-editing a technical book on plant reintroduction entitled, Plant Reintroduction in a Changing Climate: Promises and Perils, with her dear colleague Dr. Joyce Maschinski. Dr. Haskins lives happily with her husband, two boys, two horses, two dogs, five chickens and four fish. In her rare spare moments, she enjoys horseback riding, reading juicy fiction novels, and playing with her kids.
Alexis Holle
Wedding & Banquet Coordinator
alexis.holle@thearb.org
Alexis Holle has lived in Flagstaff since 2000. After graduating from Southern Illinois University with a BFA in Painting, she headed west in search of an artistic and open-minded community in which to raise her then infant son. She found what she was looking for in Flagstaff, and has been an active member of the downtown cultural scene ever since. In addition to her artistic roots, she has extensive experience in the hospitality industry, having worked for several restaurants and catering companies over the years. She was also the owner and proprietor of Sundara, a boutique, art gallery, coffee house and music venue formerly located in downtown Flagstaff, from 2007-2013.
Sheila Murray
Research Botanist, ext.112
Sheila's main interests are the rare and endangered plants of the Colorado Plateau, and she contributes to The Arboretum's mission by collecting, growing, and studying these native plants. Sheila grew up in the small ghost town of Jerome, AZ and has always had a love of the outdoors. She moved to Flagstaff to pursue a career in the natural sciences, and received her B.A. in Environmental Sciences from Northern Arizona University. She has been on the plant research track at The Arboretum since 2001. When she finds free time, she enjoys river rafting, hiking, cross-country skiing, creating botanical illustrations and indulging in other forms of artwork. Most of her free time activities inevitably include botany in some fashion.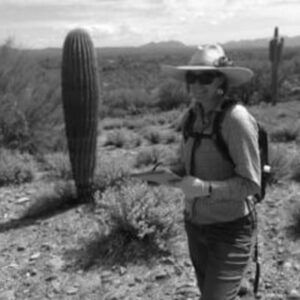 Gayle Nance
Horticulturalist, ext.111
A resident of Northern Arizona since 1996, Gayle's interest in native plants was sparked while living and working in the backcountry of Sequoia National Park, CA. She was inspired by her friend, a park ranger and botanist, as they backpacked and "botanized" throughout the High Sierra. After three seasons in Sequoia, Gayle returned to Flagstaff where she earned a B.S. in Environmental Studies from Northern Arizona University. After graduation, she enrolled in the AmeriCorps program and served a one-year term at The Arboretum at Flagstaff. Gayle has worked for the US Forest Service, the National Park Service, Grand Canyon Trust, and as an environmental consultant. Her botanical career has brought her to destinations throughout the Colorado Plateau and the Navajo Nation, including Canyon de Chelly National Monument, the dramatic landscapes of Southern Utah, and hiking, backpacking and river running through the Grand Canyon. Gayle continues to be involved with the Colorado River community by working part-time as a whitewater rafting guide during the summer months. She is thrilled to be back at The Arboretum, contributing to its mission to showcase and conserve the unique plant diversity of the Colorado Plateau region.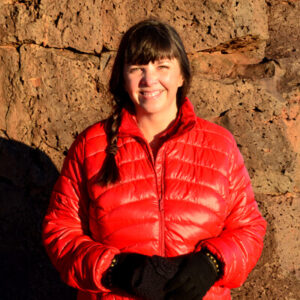 Shannon Benjamin
Volunteer and Tour Coordinator, ext.127
shannon.benjamin@thearb.org
Shannon Benjamin grew up exploring the foothills and sequoia groves of the Sierra Nevada Mountains before moving to the Siskiyou Mountains of Southern Oregon. There she became a devotee of the remote river canyons and peaks boasting rare plants like the carnivorous Cobra Lily. Shannon first moved to Flagstaff in 1998, drawn by the Southwest's wild places, diverse cultures and Flagstaff's distinct seasons. Concern about the Colorado Plateau's fragile landscapes including lack of respect for natural areas and a changing climate necessitated a career change from customer service in the tourism industry to a mission-driven line of work. She volunteered as a Docent for Riordan Mansion State Park, graduated the Flagstaff Leadership Program and was featured in the Daily Sun "Crazy for Corvids" for her popular program celebrating these smart birds. Shannon worked for the Museum of Northern Arizona for eight years in Visitor Services, Education and Volunteer Management before joining the Arboretum at Flagstaff as Volunteer and Tour Coordinator. She loves working with volunteers to educate and inspire our visitors to get out into nature and protect wild plants and places. Shannon spends her free time reading about the Southwest, hiking and exploring canyons, craters and mountains with her husband and photographing the spectacular Colorado Plateau.
Chad O'Leary
Garden Coordinator
chad.oleary@thearb.org
Chad grew up in western Texas and spent much of his free time mountain biking and hiking through the mountains of Texas, New Mexico, and Southern Colorado. In 2010, he moved to Flagstaff and attended Northern Arizona University where his love for the Southwest continued to grow. Chad received a B.S. in Parks and Recreation Management with an emphasis in forest ecology.  He enjoys spending his days off with his girlfriend Abby, tending their vegetable gardens and hiking with their two dogs. Chad started at the Arboretum in early 2016 as a horticulture intern and quickly developed a passion for working with others to help creating beautiful, beneficial, and sustainable landscapes. He has come back for another season of work, now as Gardens Crew Leader, excited to continue caring for the gardens and the wildlife they attract.
Michael Finney
Facilities Manager
michael.finney@thearb.org
A Flagstaff native, Finney grew up enjoying a childhood lived in the areas canyons, woods and creeks.  Finney holds both a BFA in Museum and Community Education and a BFA in Studio Art Photography from the University of Arizona. He is currently an Arizona State University Masters Candidate in the Fulton School of Engineering.
Kirsten Mead
Finance Manager
kirsten.mead@thearb.org
Kirsten is virtually a native of Flagstaff, having lived here since she was seven years old.  She graduated from Northern Arizona with a BS in Criminal Justice.  For nearly 10 years Kirsten owned and operated a successful scrapbook/craft store, where she was allowed to expand her creativity and accounting skills.  When her daughter was heading to college, she left the creative world for university accounting, which led to The Arboretum. Kirsten and her husband Don (a true Flagstaff native) have an adult daughter and a menagerie of dogs and cats.  They enjoy hiking around Flagstaff and Sedona, kayaking and paddle-boarding in northern Arizona's waterways and traveling to beach destinations.  Kirsten loves mixed media art and attending art retreats, reading novels, podcasts, hanging out with family and chasing sunsets.